Nov. 2011 ~ Volume 10 No. 04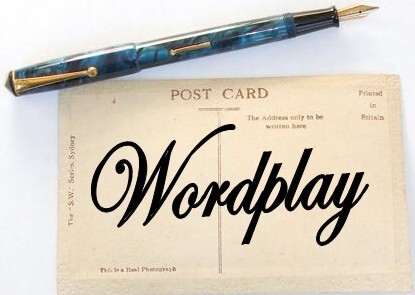 November 1, 2011
WORDPLAY HAS NEW FOCUS
Greetings, Subscribers! Beginning with the November 2011 edition of
Wordplay
, the newsletter will be focused toward
readers
rather than readers
and
writers, as in the past.
For writers, I've started a new free subscription newsletter
Writing Hacks
. There's a signup form on
SlingWords
, or you can click
here to sign up for Writing Hacks
which is sent once a week by subscription only.
If you'd like to receive a copy of
Wordplay
, just for
readers
, each month in your email box, please subscribe using the subscription form in the upper left of the
Wordplay
page.
If you want to receive a copy of
Writing Hacks
, just for
writers
, each week in your email box, please subscribe using the links shown herein.
With each subscription, you'll receive an email to confirm your subscription. You
must
confirm using the the instructions in the confirmation emails in order to be added to Joan's subscriber lists.
Wordplay
and
Writing Hacks
, two free newsletters. Subscribe today!
WHAT DO READERS WANT
This question harks back to the supposedly unanswerable question: "What do women want?"
Since I am focusing
Wordplay
for readers, I want to know what readers expect from this newsletter. As a reader, are you looking for some kind of original fiction? Or articles about books? Profiles of authors? Book reviews? Or do you just want something entertaining to read once a month?
As
Alex Trebek
of
Jeopardy
would say, "The answer is...?" I'm waiting for you, reader subscribers, to fill in that blank. Tell me what you want.
Email me: Joan at JoanReeves.com. Put REAL LIVE PERSON -- Wordplay answer -- in the subject box.
* * * * * * * * * *
SOUTHERN GRANDMA
Here's something to tickle your funny bone. I did not create this piece. This joke is more than a joke. A friend who grew up with me sent it to me. Since we are both from the same small southern town, he and I could probably name more than a dozen women, heck, make that two or three dozen, who could be the Southern grandma at the heart of this story. Lawyers should never ask a Southern grandma a question if they aren't prepared for the answer.
Reading this inspired a short story I want to write (if time permits) for Christmas featuring the
Vernon Ladies Bridge Club
where the blue-haired and white-haired ladies of the town meet every Wednesday to solve the problems of their small southern town. The
Vernon Ladies Bridge Club
, where no one knows exactly how to play bridge, was my creation in my romantic comedy
JANE (I'm Still Single) JONES
.
* * * * * * * * * *
In a trial, a Southern small-town prosecuting attorney called his first witness, an elderly grandmother, to the stand. He approached her and asked, "Mrs. Jones, do you know me?"
She responded, "Why, yes, I do know you, Mr. Williams. I've known you since you were a young boy, and, frankly, you've been a big disappointment to me. You lie, you cheat on your wife, and you manipulate people and talk about them behind their backs. You think you're a big shot when you haven't the brains to realize you never will amount to anything more than a two-bit paper pusher. Yes, I know you."
The lawyer was stunned! Not knowing what else to do, he pointed across the room and asked, "Mrs. Jones, do you know the defense attorney?" She again replied, "Why, yes, I do. I've known Mr. Bradley since he was a youngster, too. He's lazy, bigoted, and he has a drinking problem. He can't build a normal relationship with anyone, and his law practice is one of the worst in the entire state. Not to mention he cheated on his wife with three different women. One of them was your wife. Yes, I know him."
The defense attorney almost died.
The judge asked both counselors to approach the bench and, in a very quiet voice, said, "If either of you idiots asks her if she knows me, I'll send you to the electric chair."
THE END

* * * * * * * * * *
WORDPLAY
Brought to you By:
JANE (I'm Still Single) JONES
What could be worse for a former high school beauty queen who never landed the only man she ever loved than attending a 10-year high school reunion, alone, in a small town teetering on the edge of a time warp? Morgan Sherwood, the town boy-wonder who made good in a big way, was once her secret love, a geeky teen who stole her heart and then broke it before leaving town forever. He's back, and he's not a geeky kid any more. He plans to focus his high-powered brain and use every masculine charm he now possesses to seduce the lovely Miss Jones.
To read more about this book or to purchase,
please click one of the links below. Thank you!

All Romance Ebooks -- http://bit.ly/pWou6d

Kindle -- DE: http://amzn.to/w0Rk1F

Kindle -- FR: http://amzn.to/sQAPFF

Kindle -- UK: http://amzn.to/tu2nYt

Kindle -- US: http://amzn.to/q8IcZg

Nook -- http://bit.ly/nzXBL0

Smashwords -- http://bit.ly/vGqtqW

XinXii -- http://bit.ly/tJRaRG
* * * * * * * * * *
"That's all there is, there isn't any more."
Ethel Barrymore, curtain call in 1904.